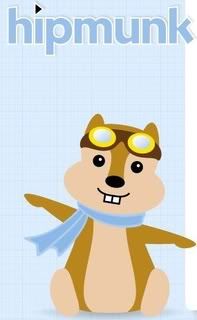 We all know that booking a flight or planning a trip can be a very strenuous venture. Finding correct times, checking prices, durations; it's all cluttered over multiple pages. It can be confusing and it makes preparing tough. Don't you just wish there was a site that would make everything easier? Maybe you'd like a website that gives users the ability to see search results on flights and hotels in a simple time-line? How about a site that features an adorable chipmunk? Well, that last one may not be necessary, but nevertheless, these are all features that are brought to you by Hipmunk, a site designed specifically to help travelers book their hotels and flights much easier than the conventional websites' methods.
Hipmunk provides visual time-lines for a plethora flights that you can sort by costs, duration, departure and arrival times, or by their own category named 'agony'. Agony is a combination of price, duration and number of stopovers; or things that could cause someone agony if there were too much of it. A pricey, long flight full of layovers and extra stops wouldn't be ideal, so Hipmunk helps users sort them out. For hotels, users are provided a map displaying where they will be staying at for their trip as well as landmarks nearby. Hotels also have a unique category to sort by called 'ecstasy'. Ecstasy is determined by price, amenities and reviews, to help give users the best possible lodging option.
While Hipmunk aims to make booking a trip easy and fun, they don't actually sell the flights or hotels. Hipmunk is more of the middle ground, directing you to airlines, suppliers or Orbitz where you will finish the booking process for all travel needs. The fares listed on Hipmunk do include taxes and other fees (except for baggage fees), allowing travelers to get a great idea of the final costs.
The Hipmunk mobile app is available to iTunes / iPad users here and to all Android users here, making it easy for people to begin booking their flights while on the move.
For anyone that does a lot of traveling, it is known that the process of booking flights and hotels could be stressful and leave you with a big headache. Nobody wants to browse page after page in order to compare prices, nor do they want to scroll back 9 pages to see which flight seemed better. With Hipmunk, you don't have to. They provide a visual time-line from top to bottom with price listings on the side, durations, as well as arrival and departure times; all without having to flip from page to page.
If you're in the mood to travel and don't want to make it a big issue when it comes to booking the whole thing, Hipmunk is here to help you with all of your needs.
Also, if when you leave their website, you still can't get enough of that adorable pilot chipmunk, they even sell shirts featuring him, and you can find those right here.