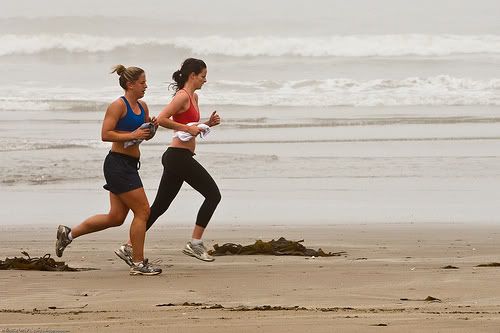 Summer is just a few weeks away, and if you're currently on overdrive trying to lose weight then you are not alone. It's usually during the last few weeks of spring that people realize that they need to start toning their body if they want to show off a great summer figure when they hit the beach. If you're currently on workout mode, then be sure to check out the five apps below that can help you achieve your fitness (and health!) goals much faster.
1. Ab Workouts Free – Whether you're aiming for Bruce Lee's six pack or just want a nice toned belly, the this app is for you. Ab Workouts Free offers a range of abdominal exercises complete with step by step instructions and animations. It even has an app trainer voice to talk you through your routines. It also has pre-set workouts at 4 different difficulty levels, depending on your experience. Want an exercise routine that's out of the box? Customize your own workouts with the app! Finally, Ab Workouts Free also has a food section to help you determine which foods are hindering your body from getting those dream abs.
2. Calorie Counter & Diet Tracker by MyFitnessPal – Whether you're aiming to lose weight or gain more muscle, counting calories is important. Those who want to shed some pounds need to set a cap on you daily calorie intake, while those that need to build up weight need to do the opposite and increase their (good) calorie intake. Whatever your goal is, this app will definitely help you achieve them. With over 1.1 million food items in its database, this MyFitnessPal app can crunch those calorie numbers quickly and easily. It also has a bunch of extra cool features such as a recipe calculator, bar code scanner, report generator, and even exercise routines!
3. Lose It! – Easily track your food intake and exercise output with Lose It! This app allows you to set a daily calorie budget to help you stay on track with your goals. Aside from fitness features though, Lose It also has a lot of social features that allow you to add friends and share workouts / meals with them. You can even share your progress via Facebook and Twitter to gain the encouragement of your friends!
4. MapMyRUN GPS Running – Aside from working out with crunches, sit-ups, weights, and the like, getting your cardio is also extremely important. MapMyRUN GPS Running is definitely your cardio sidekick when you're out running. The app tracks and logs your page, distance, calories, and even has live route map. It has some social features as well and it allows you to connect with friends and post fitness updates on Facebook and Twitter. MapMyRUN GPS Running has a database of over 26 million routes around the world so you can get your cardio wherever you are.
5. iTriage – Being fit goes beyond exercise; aside from minding your weight, you should also pay attention to your health. Don't ever skip your medical appointments and be sure to call your physician if you feel anything out of the ordinary. For those cases when you can't seem to get a hold of your doctor, be sure to use iTriage. This app lets you access and share the healthcare information that you need. It has a Proprietary Symptom to ProviderTM pathway that allows you to search symptoms, learn about potential causes, and then be directed to the most appropriate treatment facility or doctor. It has thousands of symptoms, diseases, procedures, and medications to help answer your health questions and even has an updated and comprehensive national directory of hospitals, urgent cares, pharmacies, physicians, outpatient clinics, and community health clinics.
Image credit: mikebaird on Flickr